★Features:
1. handsfree when use,Light weight, Easy to carry
2. Finely atomized particles
3. Fast atomization speed
4. Low noise and mute
5. A small amount of liquid remains
6. Two atomization modes
8. Energy-saving and environmentally friendly materials
9. Independent movable components
7. The indicator flashes to remind
10. Automatic shutdown function
★ Specifications:
Product Name: Mesh Nebulizer
Liquid medicine residue: ≤0.1mL
Atomization speed: ≥0.25ml/min
Atomized particles: about ≤2.5μm
Medicine cup capacity: minimum about 0.1mL maximum 8mL
Noise: ≤50dB (A)
Working frequency: 110KHz±10%
Power consumption: 2.0W
Power configuration: DC5V/1000mA USB power cable
Material: ABS+PP
- 1 x Nebulizer
- 1 x Adult mask
- 1 x Child mask
- 1 x Mouthpiece
- 1 x Dust cover
- 1 x USB Power connector
- 1 x English user manual
- 1 x OTG interface
- 2 x rubber ear wires
- 1 x Color box
Hands-free Mesh Nebulizer,Smaller, lighter and more convenient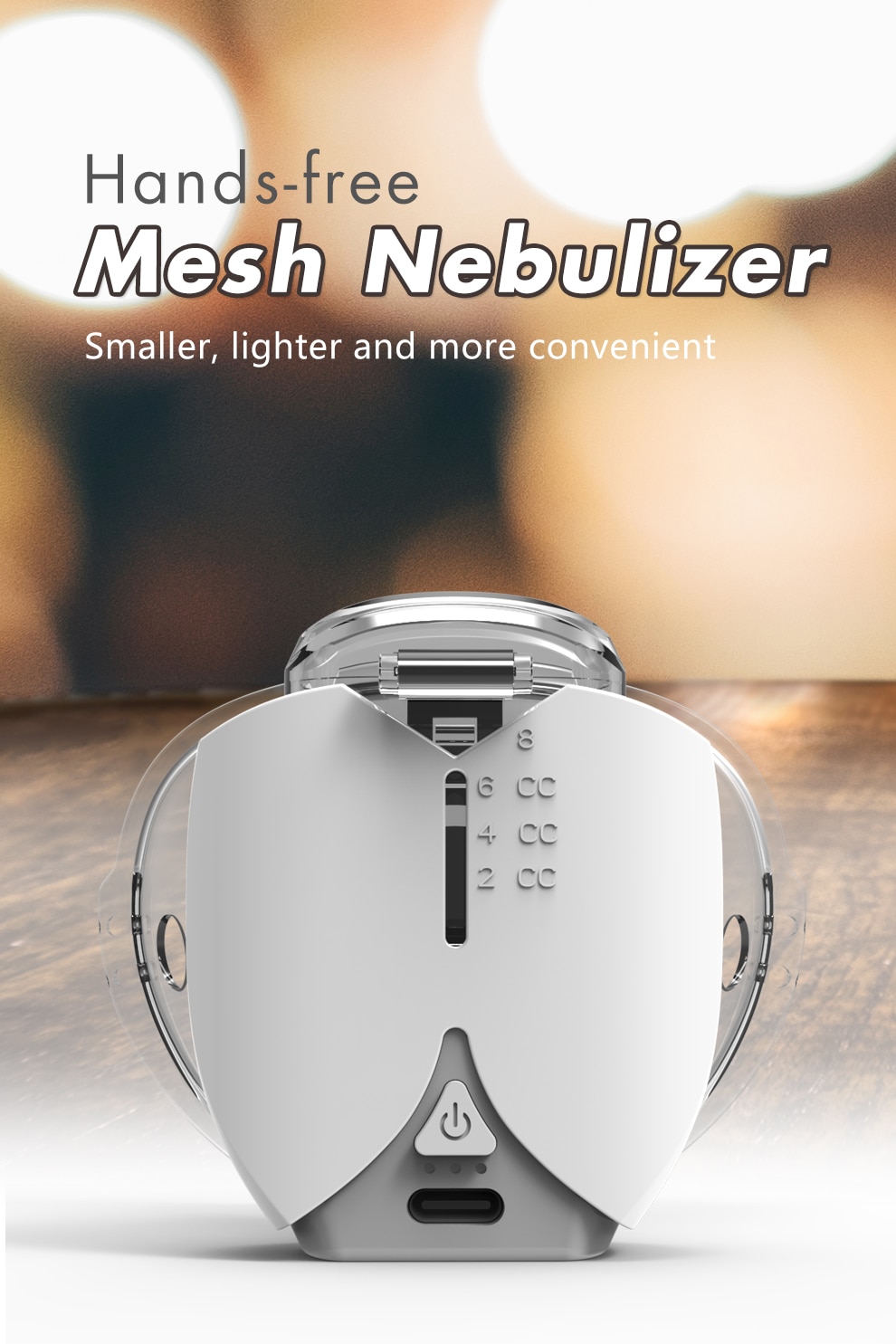 Very light
weight,         Hands-free,        Ultrafine
Atomized
Particles,           No noise,         Exquisite
appearance

Smaller, lighter and more convenient
The product weighs only 42 grams and is small in size.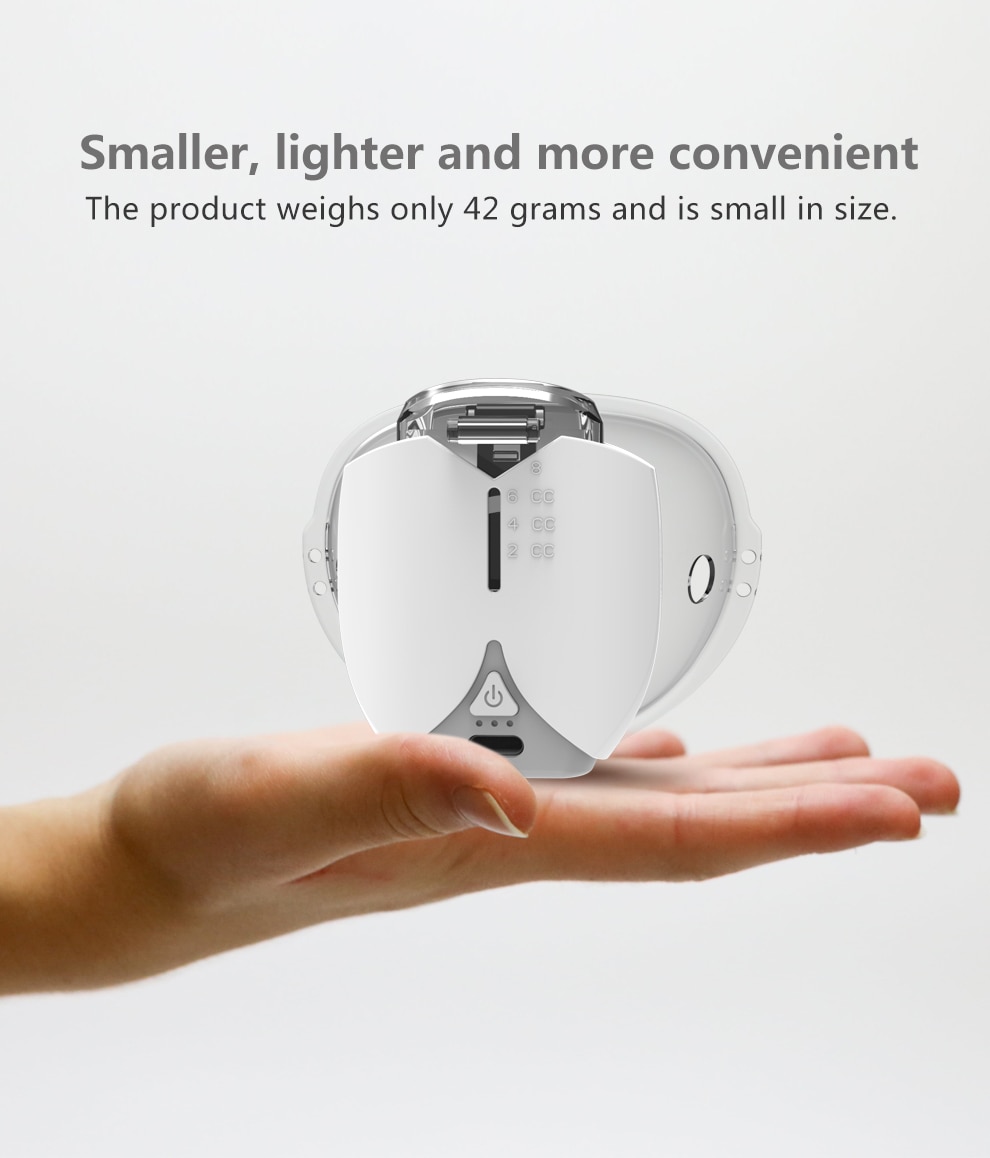 Hands-free wearing and use
Hands-free wear, no need to hold it in your hand,
you can also use it while lying down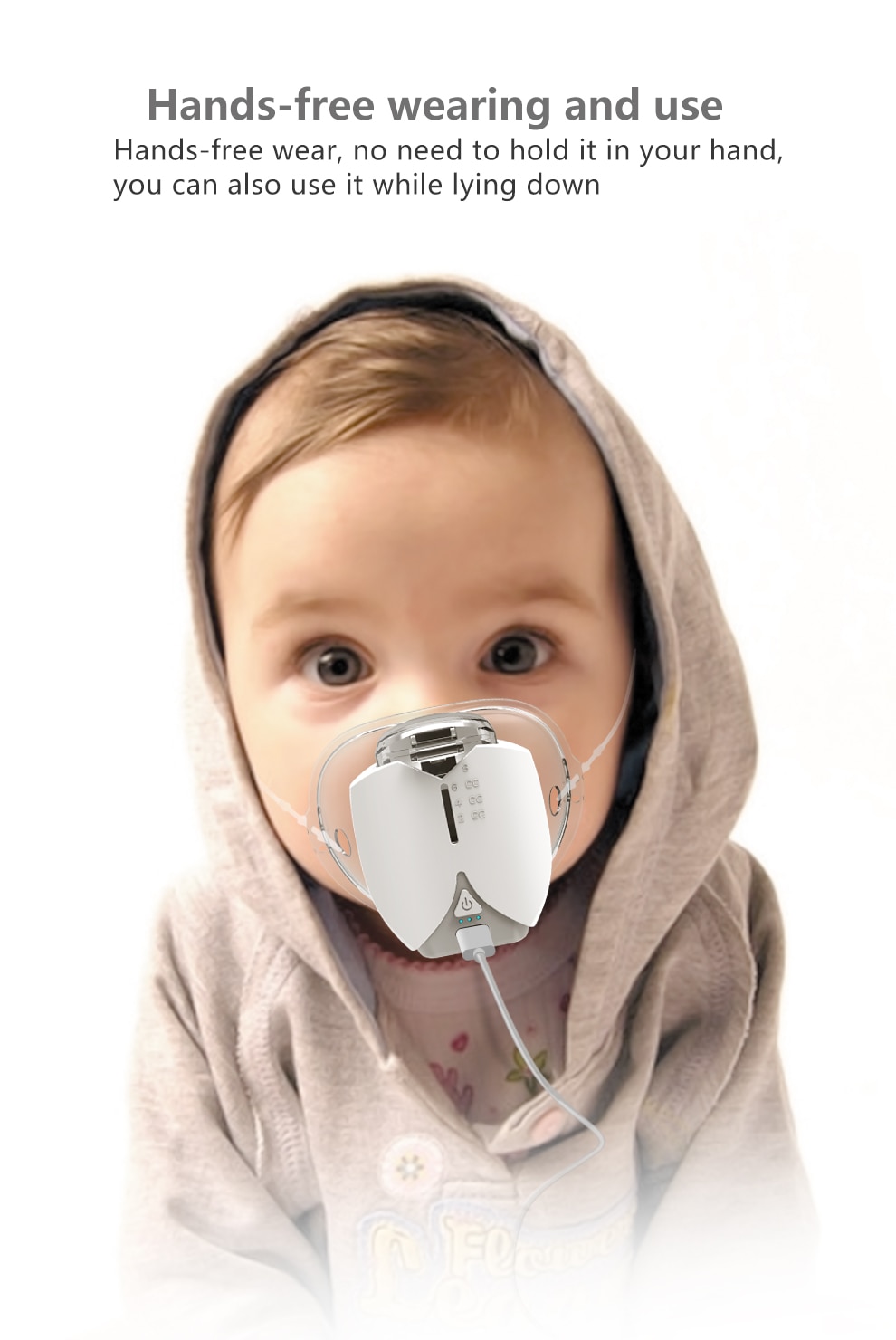 The atomized particles are fine and
the absorption is faster
The median particle size is about ≤2.5μm,
The atomized particles are fine and easy to absorb.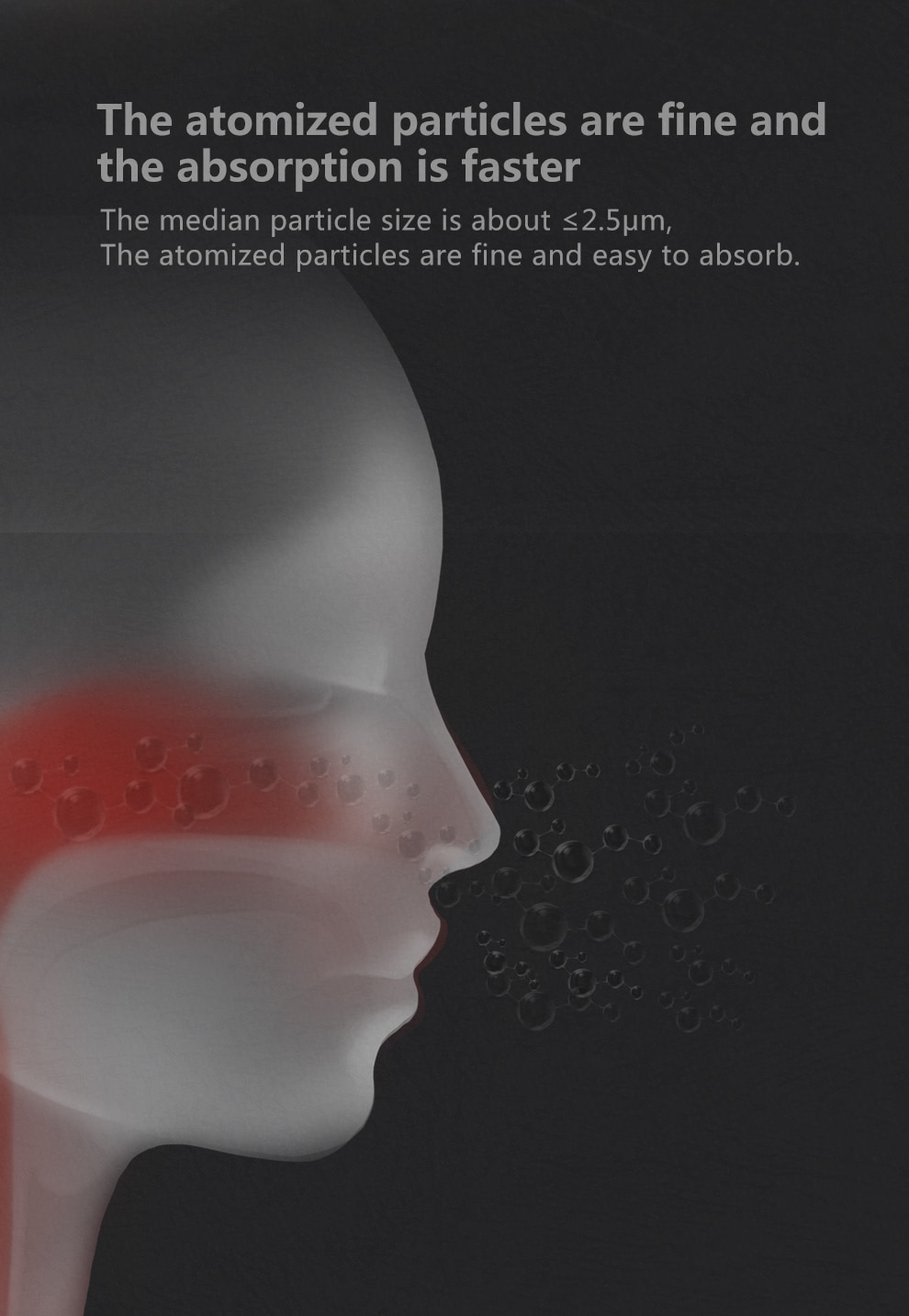 Working noise is close to 0 decibels
In our quiet enclosure with a minimum of 39 decibels,
the measured data is39 to 41 decibels, equivalent to
the sound of a bee flapping its wings.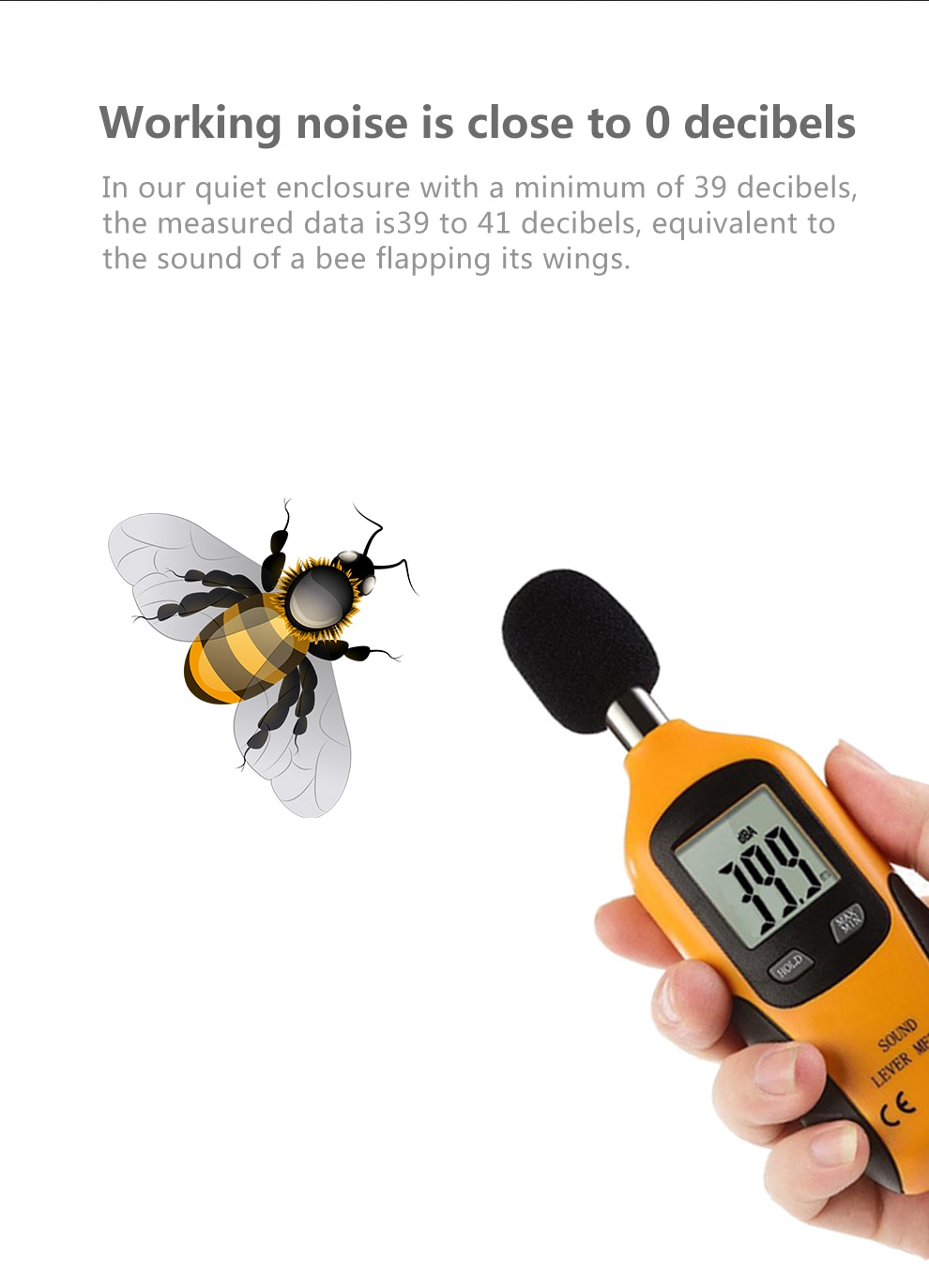 Nature-inspired exterior styling
A nature-inspired look that's more lively and intimate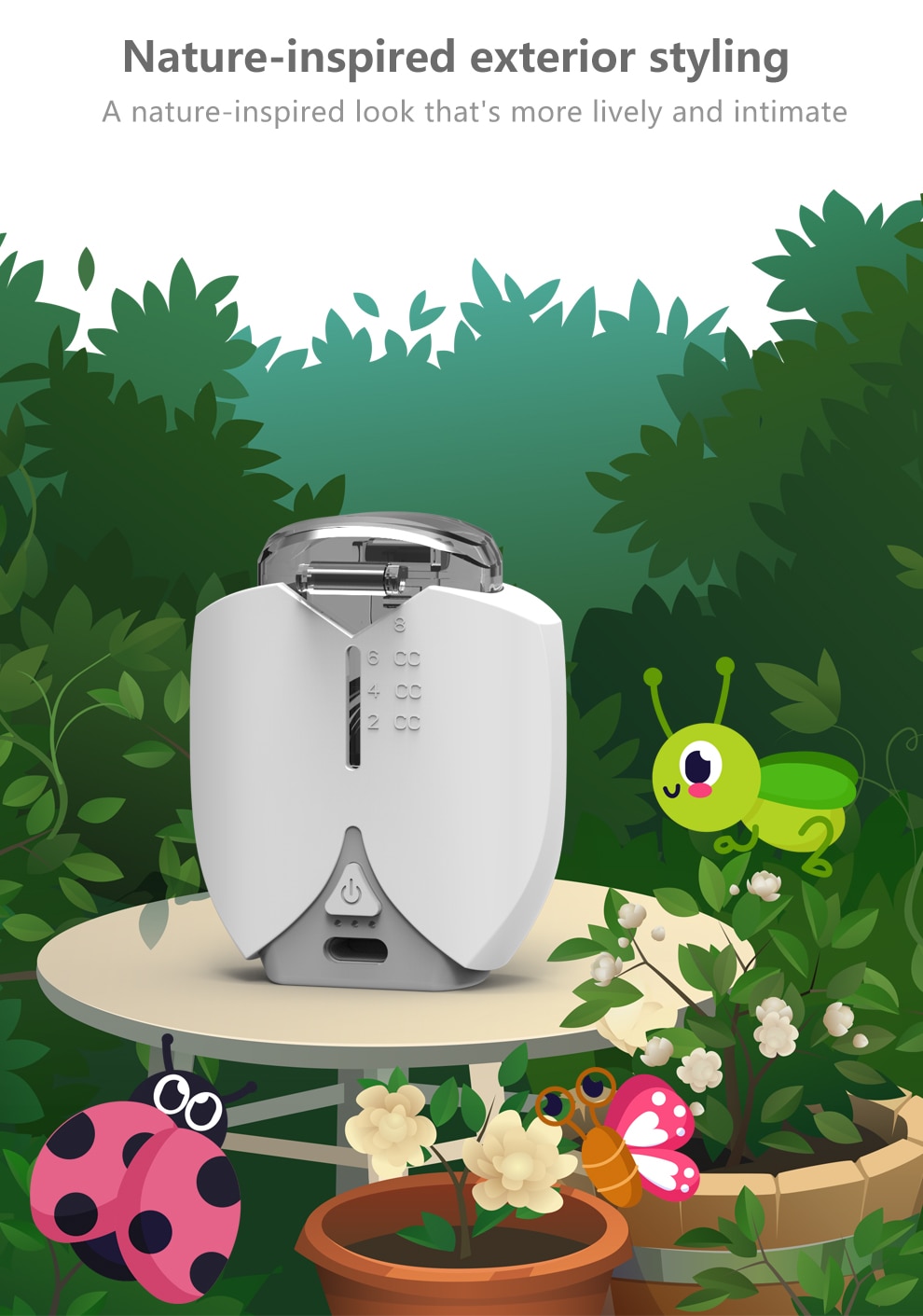 Precise and scientific structural design
The scientific and precise design of the internal
structure makes the product smaller and more
convenient to use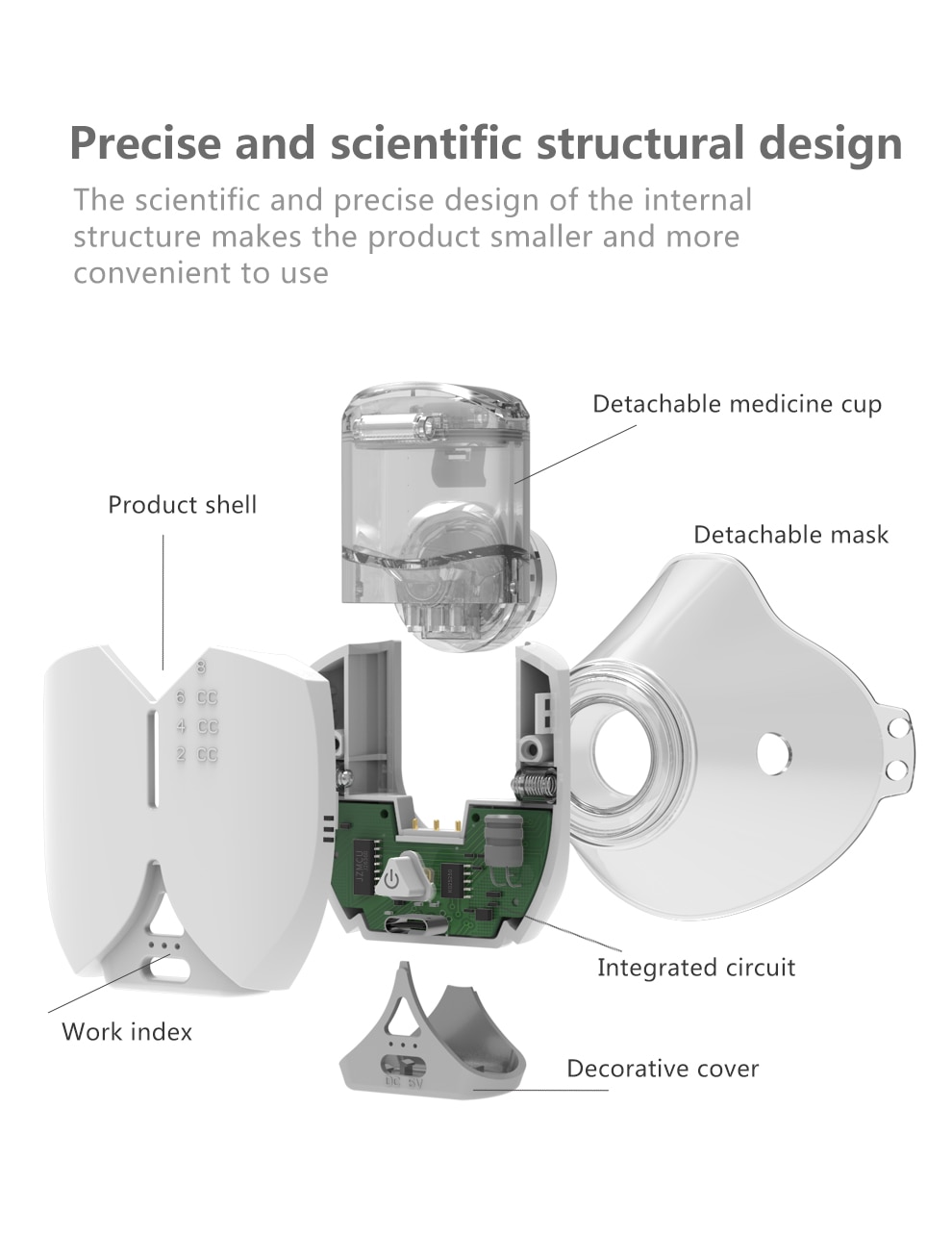 Mobile phone OTG power supply
can be used
Use mobile phones with OTG power supplies,
Can be atomized when using mobile phones
*Android phones that need to have OTG functions,
Apple mobile phone does not support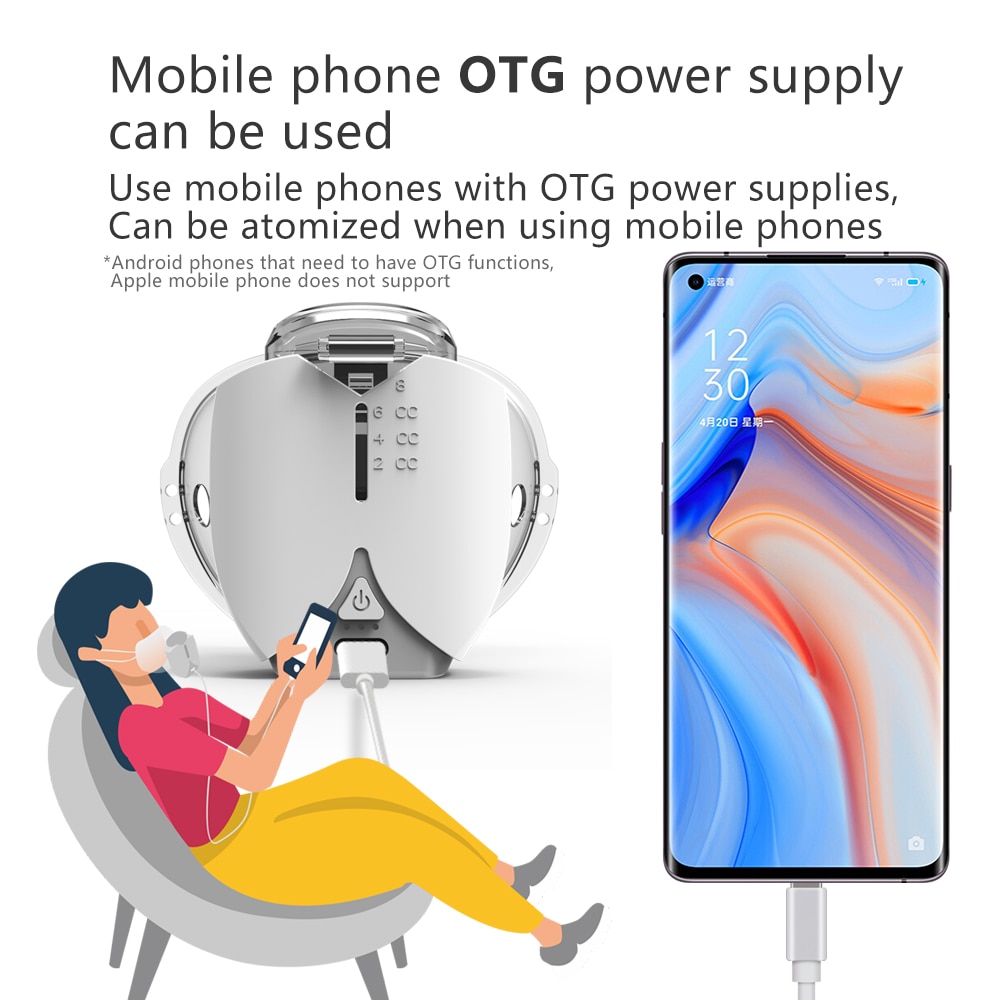 External power supply, the product
is lighter.
External power supply, can use a mobile phone adapter
(the product does not come with a power adapter), USB
socketPower bank, battery box or mobile phone with
OTG power supply, etc.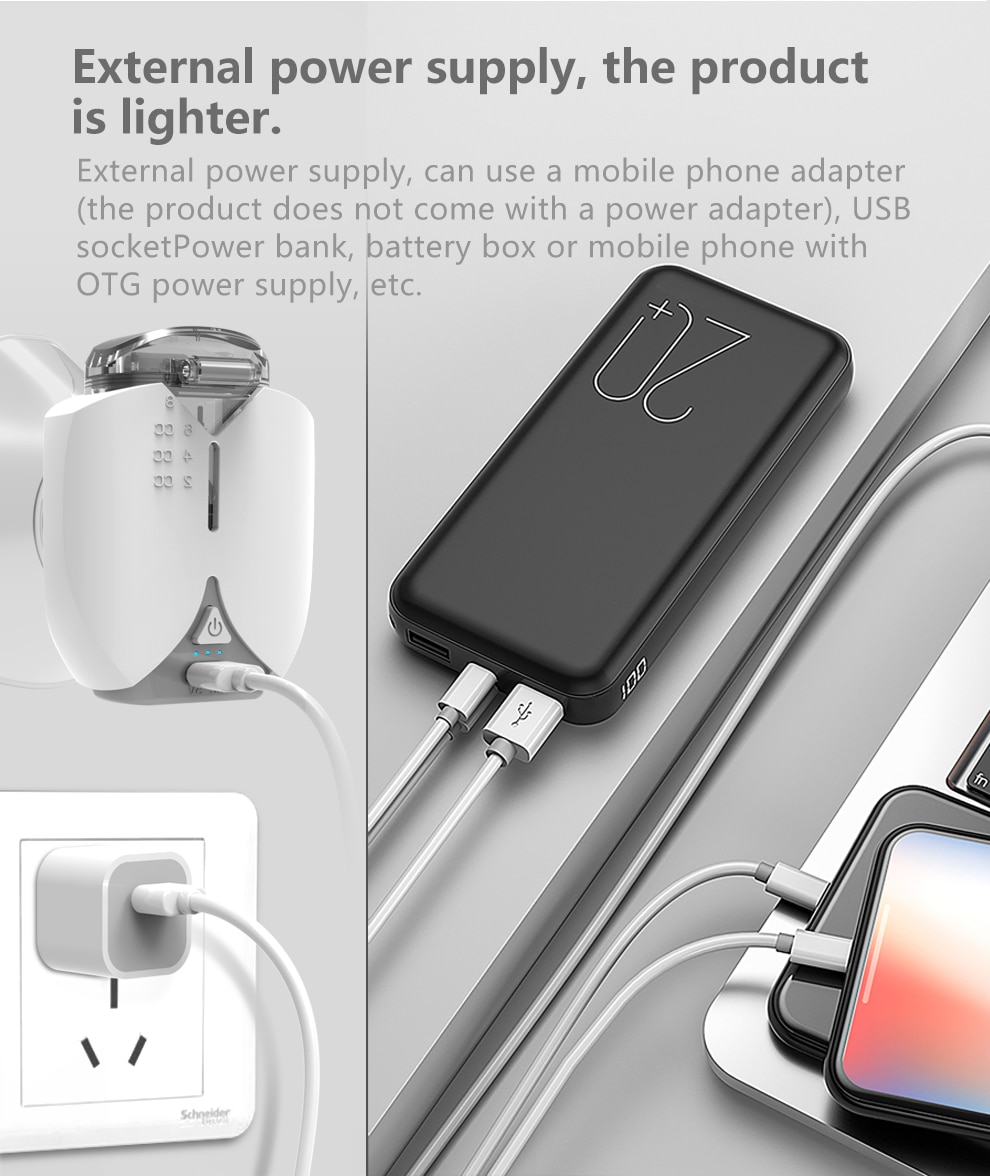 Detachable medicine cup for easy
cleaning
The medicine cup adopts a split design, which is
convenient for disassembly, cleaning or replacement.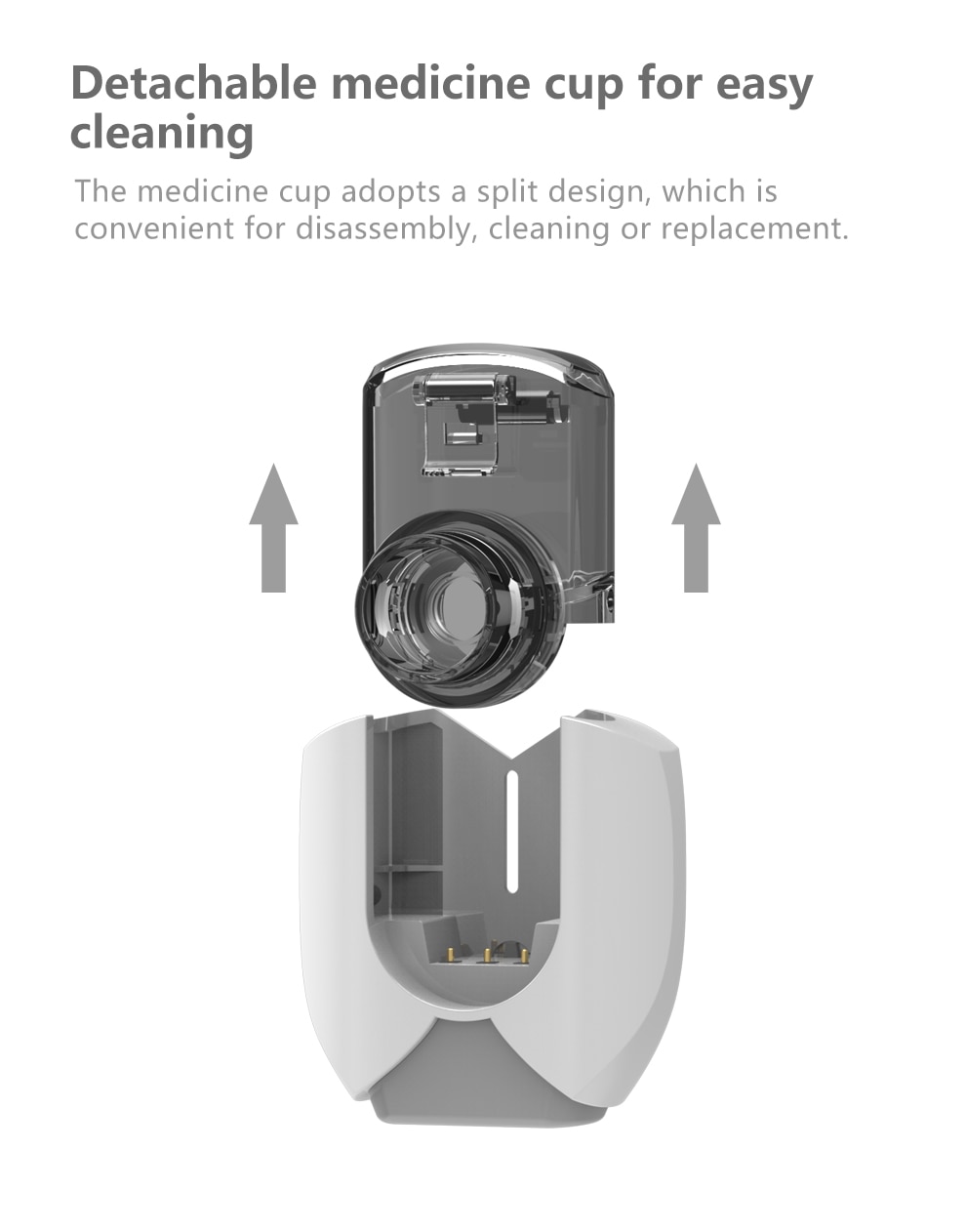 Three sets of aerosol inhalation kits
The product is equipped with one adult mask, one
child mask and one atomizing inhaler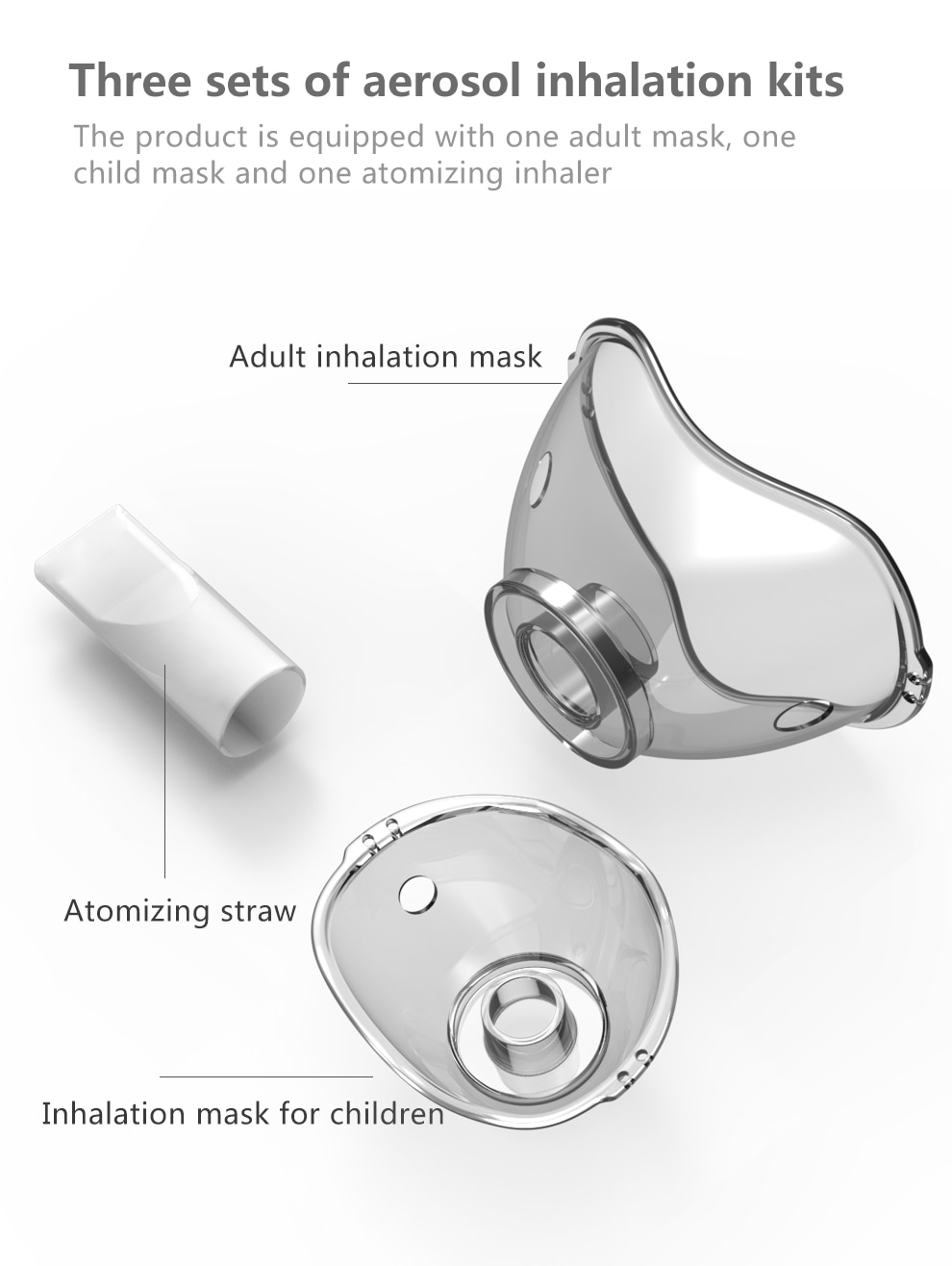 One key to open, easy atomization
No complicated operations are required, just one
click to start atomization.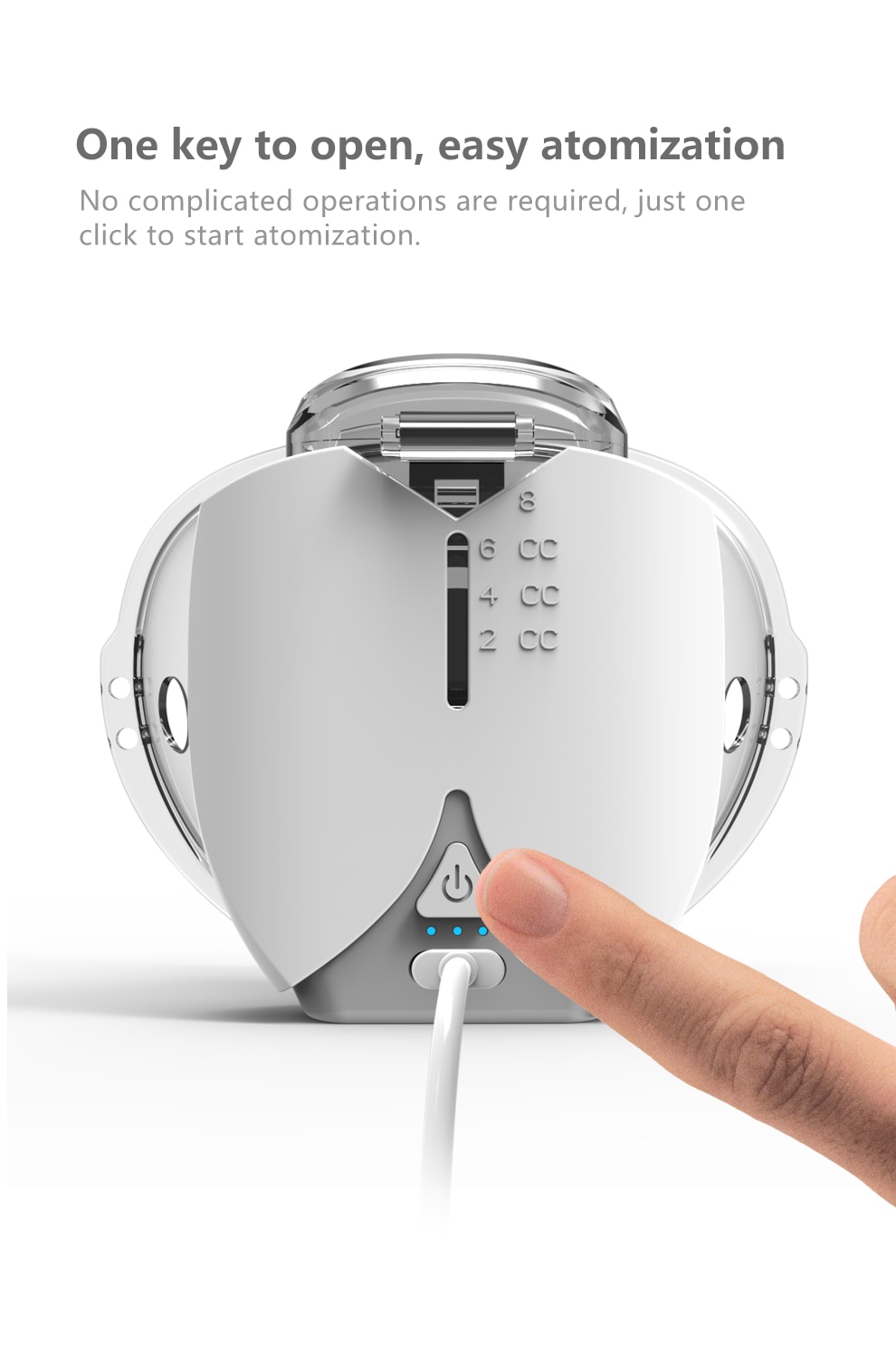 The atomization rate is balanced
and does not remain
Atomizes evenly at a rate of 0.25ml per minute for
better absorption Anti-residue cup body design,
low residual amount of liquid medicine.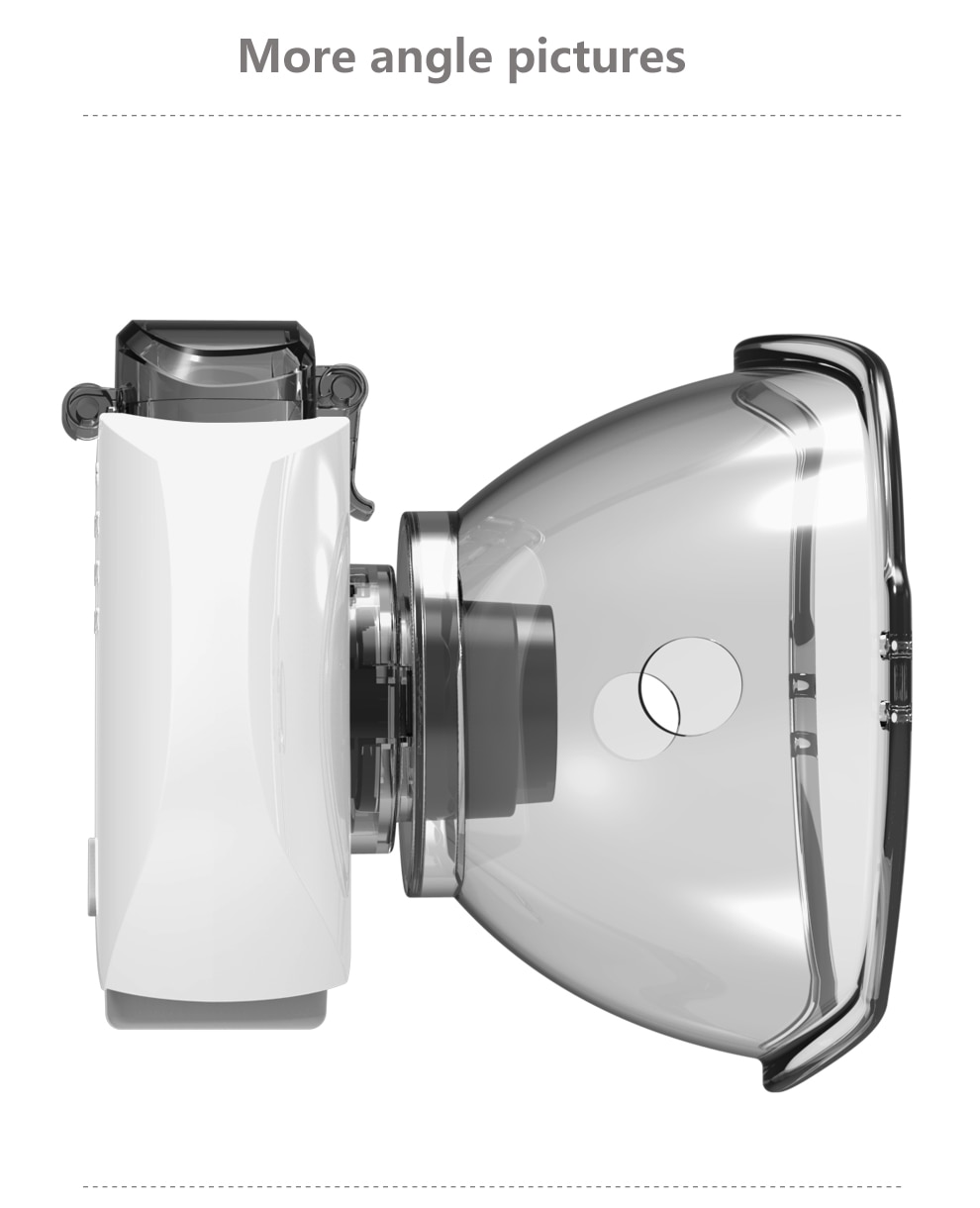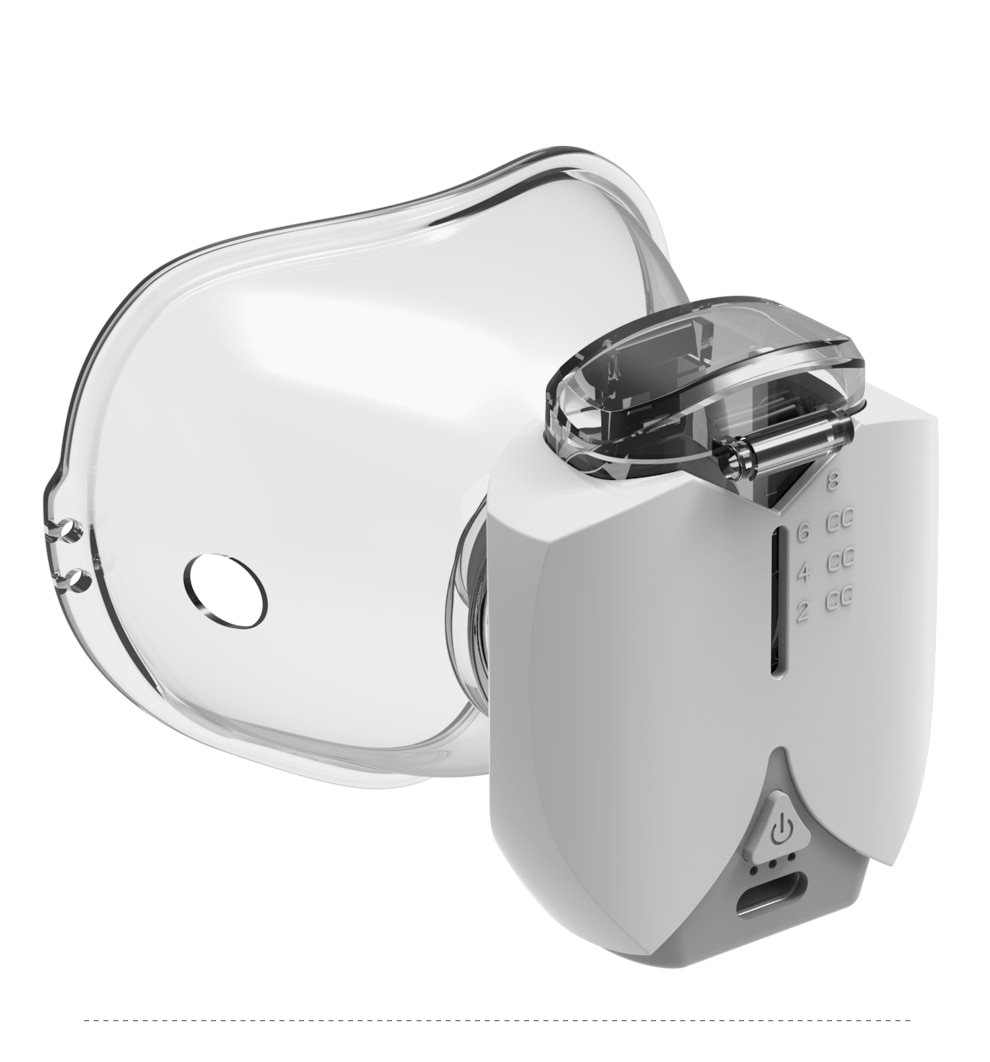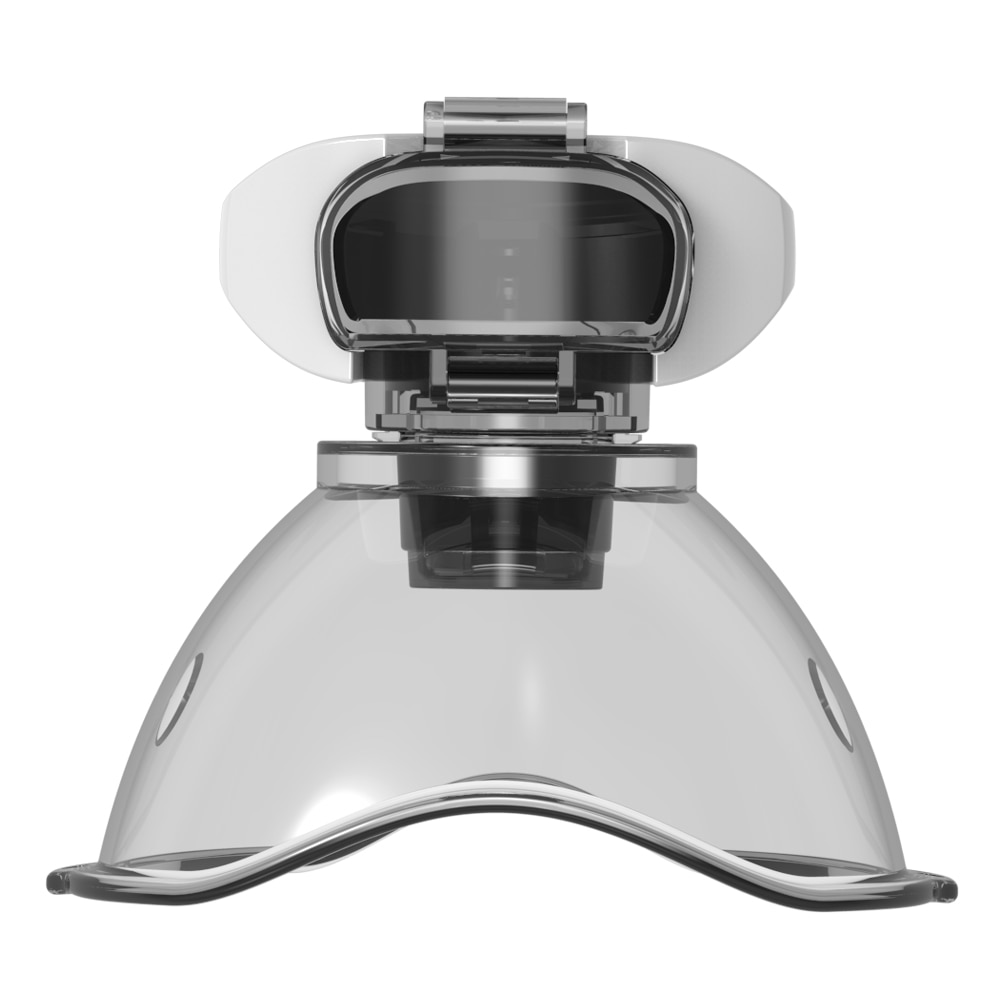 Complete product list
The full set of products includes: one host (one medicine cup),
two inhalation masks,1 nozzle,1 OTG interface, 2 rubber ear wires, 1 power cord,
product descriptionInstruction manual, color box packaging.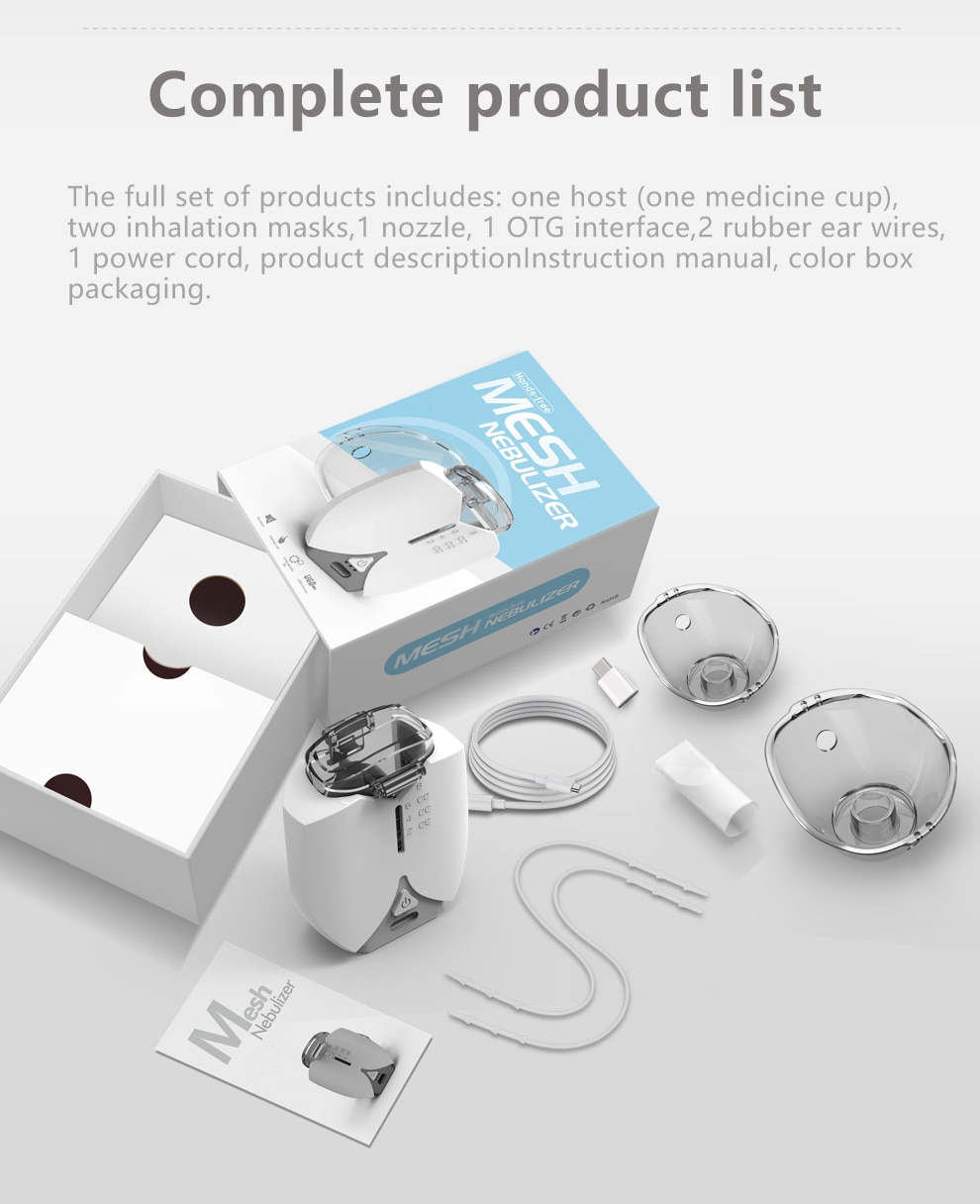 Product basic parameters
Product Name: Hands Free Mini Atomizer
Liquid residue: ≤0.1mL
Atomization speed: ≥0.25ml/min
Atomized particles: about ≤2.5μm
Medicine cup capacity: minimum about 0.5mL, maximum 8mL
Noise: ≤50dB(A)
Operating frequency: 110KHz±10%
Power consumption: <2.0W
Power input: DC5V/1000mA
Product size: 55*68*45mm
Material: ABS+PP
Packing list: main unit x1, mask x2, suction nozzle x1, power cord x1,OTG interface
x1, ear rope x2, instruction manual x1