Welcome Wholesale!!! Welcome dropshipping!!!
*If you like this item,please add it to your Wish List,
*If you like our store,please add it to your Store List.
*Thank you very much!!!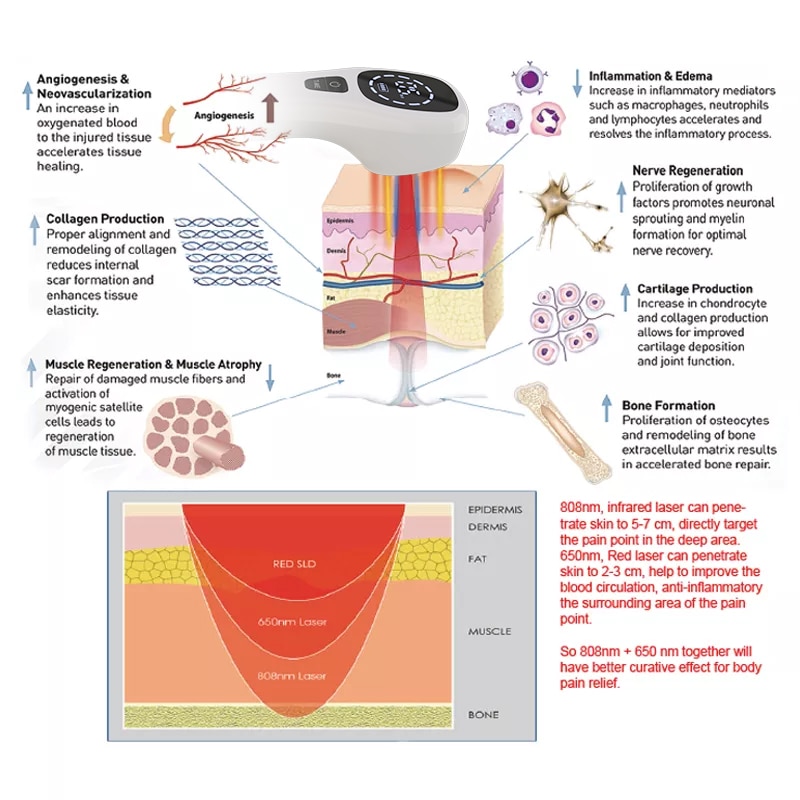 Product specifications
Battery Capacity: built-in lithium battery 2600 mAh
Laser wavelength:808nm and 650nm
Terminal laser output:2×808nm laser beams and 12×650nm laser beams
Case Material:ABS
Lens Material:Tempered glass
Working model:continuous mode
Time setting:start from 5 minutes, 5-30 minutes 6 grade adjustable Each grade increase 5 minutes
Total outpower:550 mW
Display:LED display
Voice:without voice broadcast. There is "bee" sound when pressing the function buttons
Description
EFFECTIVE RELIEF FROM PAIN- Better circulation diminishes the inflammation quickly helping relieving the pain and accelerating the tissue repair. Accelerates pain relief over days with dosage of 3 - 15 min of use.

PROVEN, HELPS WITH VARIOUS INFLAMMATION SUFFERINGS- Relieves pain for NECK, BACK, ARMS, SHOULDER, KNEE, FEET or LEGS. Suitable for pain related to nee Arthritis, Rheumatoid Arthritis, Athletics System Injuries, Soft Tissue Injuries, Sports Injuries & Sprain Wound Prostatitis, Sciatica, Carpal Tunnel Syndrome, Tendonitis or Shin Splints

DESIGNED FOR PERSONAL HOME USE- Extremely simple to use. Portable size and convenient to travel with. No pain or side effects. No invasive laser acupuncture instead of needle acupuncture. Rechargeable batteries. Comes with a Travel Pack and User Manual.

INTELLIGENT & MODERN THERAPEUTIC RED LIGHT THERAPY- State of art compact device with real world low intensity laser application. Modern household physiotherapy device Infrared. Easy household use, works based on the process of light absorption into the cells, scientifically known as photo-biotherapy.

BUY WITH CONFIDENCE:We pride ourselves on a 100% satisfied experience for our precious customers. Buy Risk-Free today and get 90 days return warranty plus easy-to-reach customer service provide the highest customer satisfaction.
ABOUT LASER THERAPY
Laser therapy is proven and professionally used in medicine for restoring normal cellular function. It's natural, non-invasive treatment with no side effects, no cross infections.
Laser therapy is used to improve blood circulation, accelerating tissue repair and relief the pain. It increases the efficiency of traditional physiotherapy and conventional treatment.
APPLICATION
It's advised to consult with a therapy professional about the laser therapy dosage and best laser by pointing directly to the point you are treating. Hold the laser an inch above the skin treatment method.
For skin surface treatment, 7-15min. application is sufficient.
For deep tissue and bone treatment, apply for 15-30min. Apply for 7-10 days then make 3-5 days break. Then repeat the treatment cycle for as long as you feel necessary.
Laser therapy is effective for a range of applications such as:
Pain relief

Wound healing

Sports Injuries

Bone repair

Rehabilitation therapy

Dermatology

Nerve Regeneration

Laser acupuncture

Veterinary